The Ultimate Guide to B2B Marketing Data 2021
Learn about b2b marketing data analytics, sources, and collection.
All you need to know about B2B Marketing Data in 2020
Are you using data to gain a competitive advantage when marketing to companies? Statistically speaking, you aren't: only 46% of B2B marketers say they currently have a complete view of customer data sources.
This means you're missing out.
Missing out in marketing means reduced business for your company – and nobody wants that.
If you're a marketer who is using data to drive your decisions, then you'll already know the benefits: easier account management, more personalized communication, quicker sales cycles. and ultimately more business.
Read on to find out how you can implement B2B marketing data in your business to gain these benefits and turn proper use of data into profit.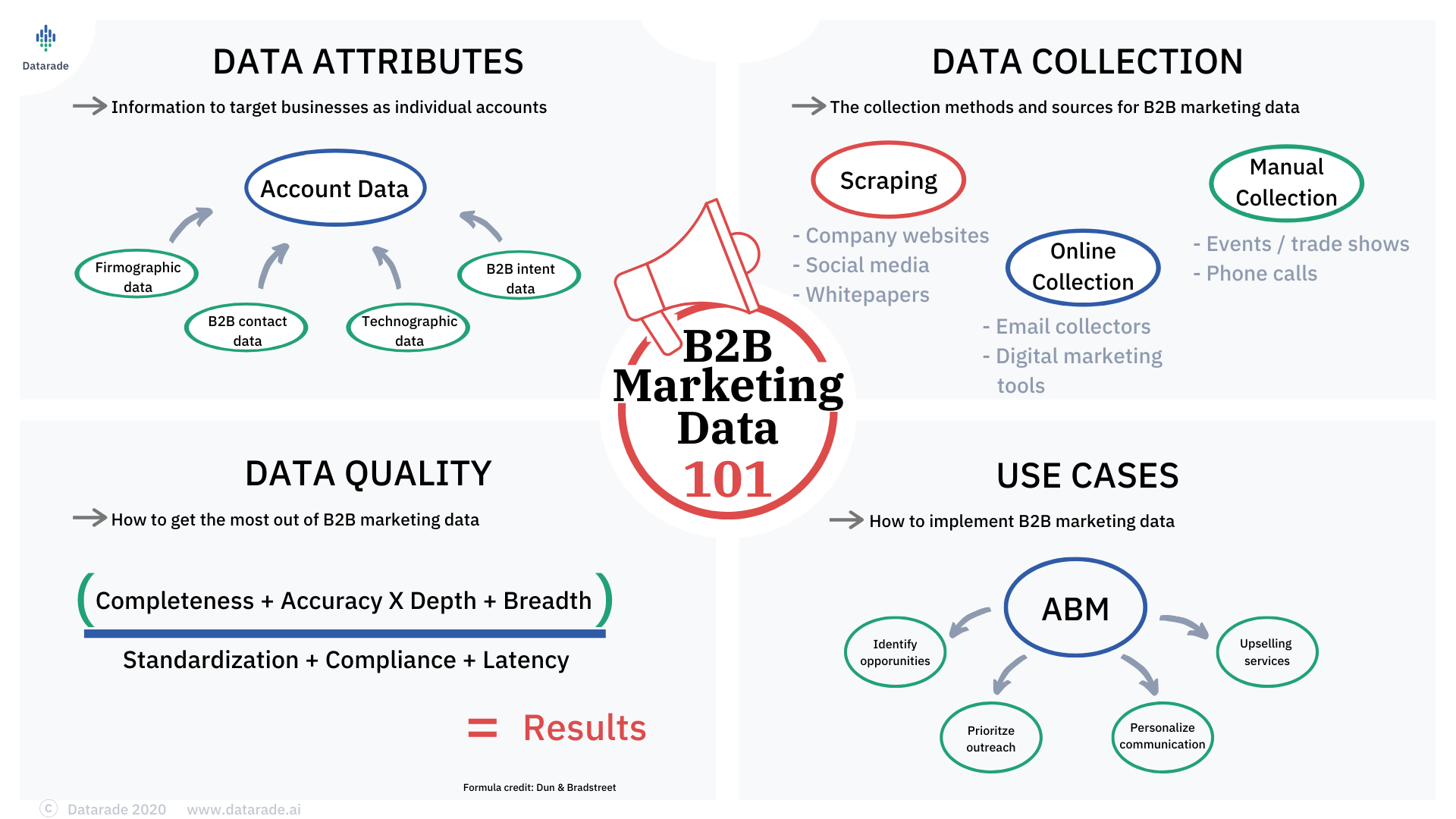 (Click image to enlarge)
Most companies are not entirely sure of the best way to target their customers.
According to a recent Salesforce report, only 46% of B2B marketers say they currently have a complete view of customer data sources, and only 28% of marketers report being satisfied with their ability to engage customers across channels at scale.
Clearly there's room for improvement, and this is where B2B marketing data comes in.
Data is already showing who the next generation of B2B buyers is and how they should be marketed to.
Digital Commerce 360 reports that millennials now comprise half of all B2B buyers. In addition, B2B buyers make an average of 12 searches online before engaging with a specific brand's website and 55% of B2B buyers say that they rely on word of mouth referrals to make buying decisions.
But to really target your customers, you'll need B2B marketing data that is tailored to your needs and relevant to your country and industry of interest.
Let's find out what B2B marketing data means and how you can use this information to find the right data for you.
What is B2B marketing data?
B2B, or business-to-business, marketing data is information used to effectively market products to businesses and organizations. It has a focus on influencing company purchasing decisions and concentrates heavily on ensuring a good return on investment for both parties.
B2B marketing is somewhat similar to its counterpart, B2C (business-to-consumer) marketing, but the specific focus on businesses leads to some key differences.
As mentioned, B2B marketing content tends to rely more on the bottom line and the return on investment for businesses, factors that don't necessarily influence consumer purchasing decisions. Organizations that fall under the B2B umbrella include those that sell software-as-a-service (SaaS) subscriptions, security solutions, tools, accessories, and office supplies.
B2B marketing data providers target any individual with control or influence on a company's purchasing decisions, which can include a wide variety of professionals from low-level researchers to those employed at the C-suite level.

(Click image to enlarge)
Data Attributes
What's interesting about B2B marketing data is that it often brings together several other data types. This means that its attributes overlap with various other data types.
However, the marketing data you'll need will depend on which part of your marketing you wish to bolster.
The primary attributes of B2B marketing data come from account data.
Account Data – Account data includes any information that aids in classifying companies in anticipation of selling them a product or service. The ability to identify targeted customer profiles is at the forefront of B2B marketing campaigns, and this is what account data is for.
Examples of account data attributes are:
Company name
Employee size
Website traffic
Recent funding
Recent hiring
Company's social media accounts
Paid ads, keywords
Recently published content
Account data is typically the cornerstone of B2B marketing data. If you're targeting pre-existing customers, you may already have some of this information, but filling in any gaps by sourcing information from a data provider can be a good idea.
Other data types that contribute to B2B marketing data are:
Contact Data – Contact data affords the chance to contact the people behind the accumulated accounts. Contact data includes:
Contact name
Job title
Email address
Phone number
LinkedIn accounts
Other social media accounts
With the help of contact data, you can create tailored campaigns to target the individuals behind accounts.
Firmographic Data – Firmographic data includes basic business information or characteristics of a company. For marketing, this can help categorize accounts and segment your audience..
The attributes of firmographic data include:
Industry
Employee size
Revenue
Sales cycle length
Technographic Data – Technographic data is information on a company's current technology stack. This kind of data can also include the targeting of those companies looking to purchase technology through more informed sales conversations, targeted prospecting, and improved close rates.
The technologies already being used by companies can provide insight into their tech buying habits, the challenges they face, and what tech they'll buy next. As a result, for technology providers, this data provides a competitive advantage for businesses.
Intent Data – Intent data analyzes the intent of targeted accounts highlighting where a prospect is in the buyer journey and if they are a good lead-to-account fit. Both firmographic and technographic data helps to filter out accounts while intent data tells the behavior of the people behind these accounts. Intent data includes:
Search topics or keywords
Ad clicks
Social media participation
Account activity levels
Existing connections with the account
A recent study by Northwestern University, in association with Deloitte, into how engagement affects sales in B2B relationships concluded that "a company's cumulative engagement with an enterprise, not just the enterprise's response to marketing and communications prompts, is what affects revenue."
What are the sources of B2B marketing data?
B2B marketing data has a variety of sources, given that its attributes vary depending on which types of data are used. These sources include company websites, whitepapers, and company social media posts.

(Click image to enlarge)
Nowadays, much of this information is scraped by algorithms. However, there are also manual collection methods, like phone calls, which are used where necessary to really verify information.
The sources and collection methods for B2B marketing data includes:
Scraping
Company websites – Company websites are a great place to find basic company information like contacts, their mission and vision, and job postings. This information can be scraped for scalable collection, and used to your advantage.
Company social media – Social networks enable reach and engage prospects where they're active. B2B buyers increasingly use these channels to research potential vendors for purchase decisions. Company's posts also offer unique insight into the organization and can also offer useful insight.
Whitepapers – Downloadable whitepapers are often used as a B2B lead generation tool and help to better align targeted initiatives with corporate interest.
Online Collection
Email collectors – Email is one of the oldest methods of collecting marketing data, but spam filters have made it more difficult to reach audiences. As a result, some sales and marketing professionals are using alternate methods of messaging such as via LinkedIn InMail for lead generation.
Digital marketing tools – Using digital marketing tools can help you to not only create and test campaigns, but also learn from the data. Data providers offer information from such tools that has been collected on a large scale, making it useful in many contexts.
Manual Collection
Events / Trade Shows – When it comes to marketing, there's nothing like meeting a company representative face to face and establishing great rapport. Despite being time consuming and not very scalable, both you and your data provider can use this method to collect useful information on potential accounts.
Phone Calls – If in doubt, call them up. Data providers will save you the time and effort of manually reaching out to verify or acquire data regarding a certain account.
The goal of all these methods is to track the progress of individual prospects and customers through the buyer journey and to provide timely, relevant, and personalized customer touch-points during that journey. However, for this data to be useful, its quality is a key component.
How can I assess the quality of B2B marketing data?
Assessing the quality of B2B marketing data is done by understanding its collection methods and raw sources. In fact, data quality is a multi-factored equation for B2B organizations. The Dun & Bradstreet Corporation devised an equation to help in assessing the quality of B2B marketing data.
The equation is as follows:

(Click image to enlarge)
In terms of B2B quality of marketing data, each variable is operationalized as:
Completeness - Data quality starts with record completeness and all the necessary information required to support marketing strategies. If a record is incomplete, the data quality suffers.
Accuracy – Data accuracy is a measurement of the factual correctness of record information. If data is inaccurate, the quality of that data then becomes questionable.
Depth - Data depth evaluates whether there is enough information to work with. If data is lacking in depth, it does not meet the needs of B2B marketers, and thus lowers the overall quality.
Breadth – Data breadth refers to the context in which the company operates and in which the data can be used. Without the necessary context to situate B2B data, the insights can be of low quality or unusable.
Standardization – Data standardization makes it so that data can be easily shared across systems, ensuring a consistent flow of information between sales and marketing. If data isn't consistent across mediums and targeted populations, the data quality is poor, and marketers gain little by its use.
Compliance – Data compliance with key regulations and permissions is necessary to prevent delays in data collection as well as damage to the quality of data. Targeted B2B populations will be less willing to provide necessary data points if they feel a company is not in compliance with the necessary regulatory guidelines and standards.
Latency – Data latency, or timeliness, can impact performance and usefulness. The buyer journey happens in real-time and useful data needs to work in tandem. If B2B marketing data becomes outdated, the usefulness of the data naturally suffers.
Why is data quality important?
Data quality is important because it means you can leverage precise insights to move a business forward. In sales and marketing, account identity and intelligence insights are critical, thus poor-quality data can thwart progress.
In fact, 89% of respondents of the 6th Annual B2B Marketing Data Report, say data quality is important to achieving their marketing and sales goals.
Meanwhile, another recent survey that analyzed over 775,000 B2B tech contacts found that 25% of the average B2B marketer's database can be determined "inaccurate," while a full 60% of companies continue to struggle with "unreliable" data.
One day of missing data, is a loss of roughly 3% of monthly conversions. And frankly, that's a loss no company wants to incur.
VisionCritical predicts the customer experience will overtake price and product as the top brand differentiator by 2020 while Forrester estimates that a 10% increase in data accessibility will result in more than $65 million additional net income for a typical Fortune 1000 company. Simply put, B2B data marketing is the smart approach to enhancing engagement and sales.
What specifically often goes wrong?
The most common data quality issues B2B marketers face are poor organization, too much data, inconsistent data, poor data security, incorrect data, and poor data recovery.

(Click image to enlarge)
When it comes to contact-specific data, issues arise with duplicate data, invalid values or ranges, and missing fields. It's recommended that you try to ensure your purchased data is of the highest quality or to minimize the risk of wasting time, money, and resources.
Asking these 5 questions from your data provider will help you ensure data quality:
Is the data accurate, up-to-date, complete and consistent, and does it produce the depth of insight required for solid decision making?
How would they define data quality based on your business objectives?
Who is responsible for data collection? Do they work with a team, including members with roles such as software developer, program manager, project leader, data steward, and data analyst?
How do they validate the information they collect in a systematic way?
Do they conduct regular reviews of their data collection processes?
Quality data matters in terms of decision making, productivity, and compliance. Fortunately though, a few non-standardized entries won't make or break the success of a business.
Nonetheless, utilizing primarily clean data is imperative to greater credibility and a stronger decision-making foundation.
With quality B2B marketing data, business can:
Deliver an immediate impact and noticeable improvement based on the company's current data hygiene state.
Leverage both real-time information and historical details – customers, staff, products, techniques and processes.
Have a rock-solid foundation to be able to use new technologies such as predictive analytics, forecasting and modeling.
Scale and adapt based on the volume, speed and variety of data while keeping everything valid and consistent.
Save money from having accurate data in which to make decisions and strategize marketing campaigns.
What is B2B marketing data used for?
B2B marketing data is used to develop a set of strategies with the goal of distributing content to drive brand awareness, engage an audience, generate and nurture leads, and ultimately boost sales. Summed up, the primary use case is account based marketing (AMB).

(Click image to enlarge)
The latest research by the Content Marketing Institute (CMI) reports that B2B marketers primarily use content marketing to drive brand awareness, educate audiences, and build credibility. What's more, customers are on board with this, with 79% of customers reporting they are willing to share data in exchange for contextualized engagement, and 88% happy to do so for personalized offers.
While these stats highlight mainly B2C benefits, they're still applicable as it's important to remember that businesses are run by people. B2B marketing data gives you data into how these people can best be reached and marketed to.
As mentioned, organizations use B2B marketing data in a variety of ways, and these are parts of ABM. The three categories of use cases as described by Forrester Research that dominate the current landscape include:
Identifying and Acquiring Prospects
In this use case, accounts that exhibit desired behavior (make a purchase, renew a contract, or purchase additional products and services) serve as the basis of an identification model.
This approach helps sales and marketers find valuable prospects earlier in the sales cycle, uncover new markets, prioritize existing accounts for expansion, and power account-based marketing (ABM) initiatives by bringing to the surface accounts that resemble existing clients.
Accurately and proactively identifying and acquiring prospective clients can steer the buyer journey in the right direction.
Prioritizing Accounts
Once you've identified a prospective account, you'll need to know when it's the right time to reach out. This is called account prioritization, and it ensures you're engaging with accounts when they're most ready to be engaged.
Predictive scoring adds a scientific, mathematical dimension to conventional prioritization methods that rely on experimentation and iteration. This use case helps sales and marketers identify productive accounts faster, spend less time on accounts less likely to convert, and initiate targeted cross-sell or upsell messaging to accounts that are likely to be responsive.
Prioritizing known prospects, leads, and accounts is not only a time-saver, it's just good business practice.
Personalizing Communication
When you know the right account and the right time to reach out, you also need to know how best to get your message across to them.
Traditionally, B2B marketers have been limited to personalizing by generic attributes and did so with such manual effort that it applied only to the most highly prioritized campaigns. Now, attributes used to feed predictive algorithms appended to account records support more intricate and automated segmentation.
This use case helps sales and marketers drive outbound communications with relevant messages, enable substantial conversations between sales and prospects, and inform content strategy more intelligently. Utilizing personalized messaging helps to ingratiate companies with and build relationships with potential clients.
Upselling
Finally, once you've got an account firmly onboarded and using your products and services, you can use B2B marketing data to upsell to them the other services you have to offer.
The benefits for you here are clear. However, this can also be very beneficial to the account, as you'll provide more value to them.
Where B2B marketing data comes in is to help you identify the opportunities to do this, for example via technographic data showing a gap in their technographic stack or intent data suggesting the company is looking for a new supplier.
How can I use B2B marketing data?
B2B marketing data can make an organization more authoritative and establish it as a subject matter expert within its industry. This can be accomplished by utilizing B2B marketing data to build brand awareness, promote credibility, gather insight, test messaging and offers, and stay in contact with customers.
Corporate marketing and sales teams as well as marketing agencies collect, interpret, and operationalize B2B marketing data to be proactive in the face of lengthening sales cycles.
After all, knowing more about potential customers, the business landscape they face, and the market helps to create a more informed product development with a greater likelihood of market penetration; deeper understanding of customers' needs; and solidification of the best marketing strategies to use.
Businesses use B2B marketing data to gain any competitive advantage, but measuring ROI is complicated due to the nature of the process, which includes several evolving variables and dynamics. These elements can include sales representatives, customized quotes, meetings, RFPs, long lead times, and other obstacles to completing a sale.
Adding to the benefit, the fact that about 90% of the world's data has been produced in the last two years. This is a goldmine simply waiting to be tapped. For example, online leads can be tracked throughout the buyer's journey to see how many online leads were converted and the dollar value of the sales they generate.
Historic sales data can also be utilized to estimate the percentage of accounts closed. Not only do quality leads require less sales time, but overall, a website or digital information reduces the selling cycle for a business.
According to Gartner, buyers are more skeptical of marketing pitches and have greater access to information than their predecessors. Thus, B2B marketing data can aid in targeting this more informed consumer.
What are the challenges with B2B marketing data?
According to "Mind the Data Gap," a study by Adweek Branded and Dun & Bradstreet, the biggest obstacles to data-driven marketing are reported to be:
Siloed or inaccessible customer data — 32%
Integration of marketing and sales platforms — 32%
Incomplete customer data — 30%
Lack of data expertise — 30%
Accuracy of audience data — 27%
Regulation of personal/audience data — 22%
Lack of internal data resources — 20%
Unclear metrics — 18%
Reliable third-party data sources — 17%
In addition, not many firms are using account-based marketing to engage B2B clients. The major hurdles appear to be unclear ABM strategies (35%), lack of time/resources (31%) and lack of understanding about ABM (29%). These are all processes in which a third-party marketing data provider can assist.
B2B marketers need to be focused on the process of managing data and unlocking its value. While over 80% of B2B marketers use customer relationship management (CRM), most of them do not have the technologies that unlock that data's highest potential, like data management platforms (DMP) or customer data platforms (CDP).
Marketers need to be able to leverage analytics to identify their best accounts, find other accounts whose profile mirrors those top performers, and develop ways to share customized content and messaging to the decision makers at these key accounts. Yet, many companies still struggle to put all of this knowledge and data into action. They struggle to humanize their brand and be more vulnerable, even if doing so will help cut through the noise.
For example, today's B2B buyer is active. They're pursuing multiple options, collecting RFPs, comparing requirements, and reading reviews. In addition, they are self-directed and don't waste time. When a company takes too long to get back to them, there are two problems:
They view it as a red flag that the company's operations aren't up to par and assumes support won't be either

They move on and engage with competitors who are faster to respond
The modern B2B buyer experiences the following phases: Awareness, Multi-participant consideration, Purchase, and Post-purchase experience making them behave more like a B2C consumer expecting the same purchase experience and level of service.
As a result, B2B marketers need to be aware of these changing characteristics. Having accurate, quality marketing data can aid in remaining current with buyer trends.
Additional challenges, specifically relevant to B2B marketing data, is adhering to General Data Protection Regulation (GDPR) and privacy standards. GDPR fines are given to companies of any size, and while regulators might issue warnings first, it's up to them to decide.
Plus, businesses are not going to want to work with companies that are not compliant with existing regulations and standards as it could also reflect negatively on them and their corporate brand.
How is B2B marketing data priced?
The cost of B2B marketing data can vary widely; however, there are two primary ways in which prices for data products are constructed: cost-based and value-based.
Each is described in more detail below.
Cost-based pricing
Cost-based pricing, often referred to as "cost-plus pricing," is where the price of a product is determined by adding a profit element (percentage) on top of the cost of making the product.
For B2B marketing data, vendors who assess the costs required to build, maintain, and deliver data products. These costs are classified as set-up, personnel, overhead and on-going IT costs.
In cost-based pricing, either a fixed amount or a percentage of the total product manufacturing cost is added as profit to the cost of the product to arrive at its selling price.
Value-based pricing
In software and services, the value a customer receives from a product is often many times the cost of producing it. This has led to the idea of basing pricing on the potential value of a product.
For marketing data, value-based pricing is based on the perceived value of the data, which will be affected by factors like the scale, breadth and specificity of the data.
The average cost per lead (CPL) for popular B2B marketing channels varies across multiple industries.
The equation to calculate the cost per lead is total marketing spend ÷ total number of leads = cost per lead. Cost per lead (CPL) and cost per acquisition (CPA) are sometimes used interchangeably but most commonly have two separate meanings. Cost per lead is the average cost to acquire a prospect. Cost per acquisition is the average cost to acquire a customer.
Conclusion
In summary, there is a world of B2B marketing data out there that is not yet being exploited by companies, meaning the untapped potential of the data is vast.
As data-driven decision making becomes even more prominent, marketers who do begin to incorporate data into their businesses will fall behind. And as we know, falling behind means a decrease in customers, leading to a decrease in revenue.
Now that you know the importance of B2B marketing data, and have a comprehensive understanding of how to acquire top quality data that you can use, be sure to check out our list of the top B2B marketing data providers and products.
Who are the best B2B Marketing Data providers?
Finding the right B2B Marketing Data provider for you really depends on your unique use case and data requirements, including budget and geographical coverage. Popular B2B Marketing Data providers that you might want to buy B2B Marketing Data from are Slintel, Infotanks Media, Span Global Services, Iberinform, and Krill Technologies.
Where can I buy B2B Marketing Data?
Data providers and vendors listed on Datarade sell B2B Marketing Data products and samples. Popular B2B Marketing Data products and datasets available on our platform are Slintel Technographics Data Platform: Worldwide Coverage, 17M+ Companies by Slintel, Get the Best B2B Email Data Lists | Data-driven Marketing by Infotanks Media by Infotanks Media, and Slintel B2B Marketing Data: Worldwide Coverage, 17M+ Companies by Slintel.
How can I get B2B Marketing Data?
You can get B2B Marketing Data via a range of delivery methods - the right one for you depends on your use case. For example, historical B2B Marketing Data is usually available to download in bulk and delivered using an S3 bucket. On the other hand, if your use case is time-critical, you can buy real-time B2B Marketing Data APIs, feeds and streams to download the most up-to-date intelligence.
What are similar data types to B2B Marketing Data?
B2B Marketing Data is similar to B2B Leads Data, Firmographic Data, Technographic Data, Business Ownership Data, and B2B Intent Data. These data categories are commonly used for Marketing and Lead Generation.
What are the most common use cases for B2B Marketing Data?
The top use cases for B2B Marketing Data are Marketing, Lead Generation, and Lead Nurturing.