B2B Data
B2B data is information related to business to business interactions. It's mostly used by marketers and sales teams e.g. in account based marketing and sales prospecting. Datarade helps you find the right business data list providers and databases.
Top B2B Data APIs, Datasets, and Databases
Find the top commercial B2B Data sets, feeds and streams.
You are curious! We like that.
Please create a free account if you want to get access to all of our resources.
Top B2B Data Providers, Vendors, and Companies
Find the top B2B Data aggregators, suppliers, and firms.
You are curious! We like that.
Please create a free account if you want to get access to all of our resources.
The Ultimate Guide to B2B Data 2020
Learn everything about B2B Data. Understand data sources, popular use cases, and data quality.
What is B2B data?
B2B is shorthand for "Business to Business", and it generally refers to who you sell your product to. If your company sells a product or service to other businesses, you're a B2B company.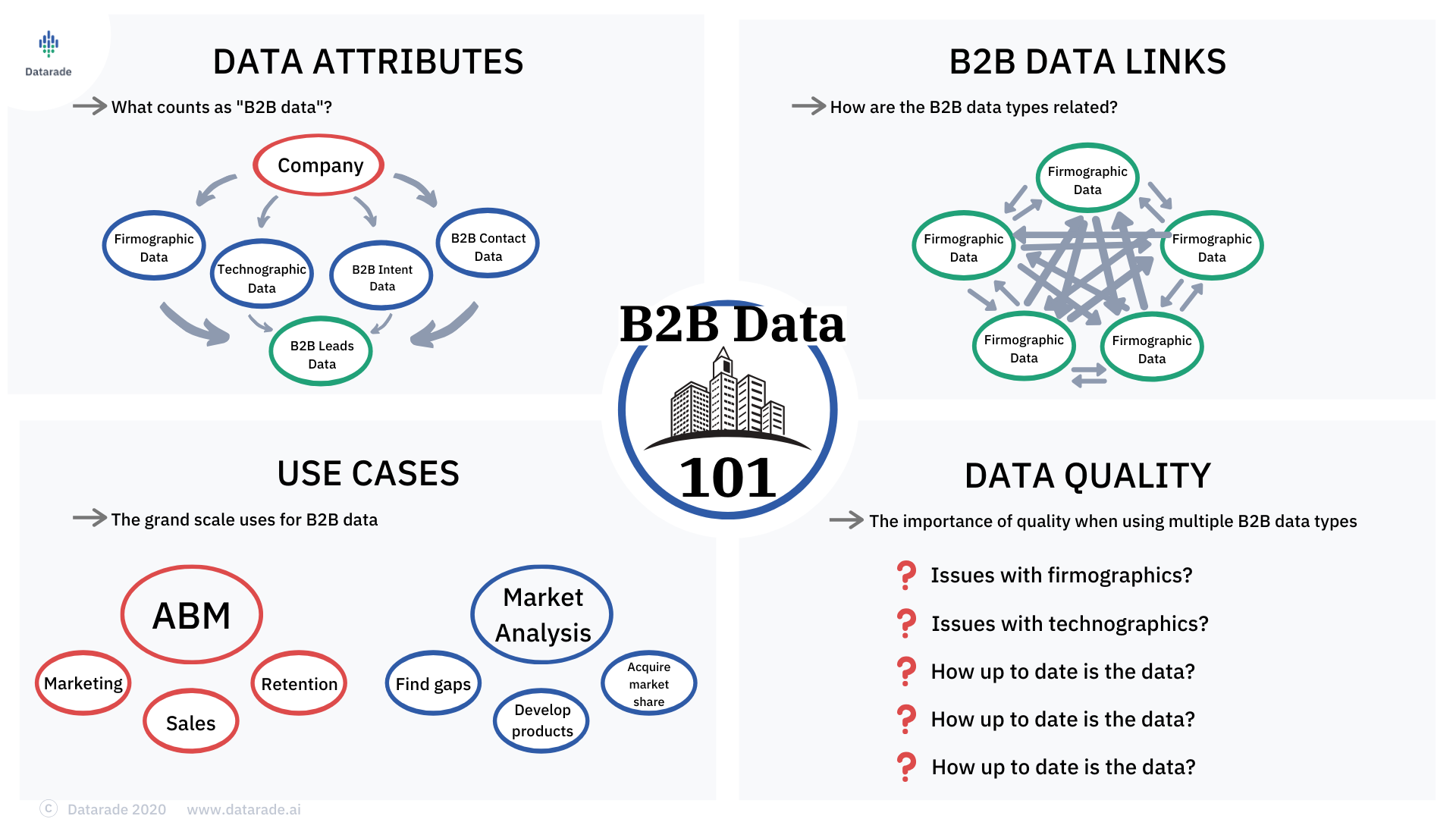 (Click image to enlarge)
B2B Data consists basically of all business related data. Whether it's firmographics, techno graphical information or other type of company data like ESG, it offers a wide perspective on other organizations and has a large variety of use cases. Companies use B2B Data often to reach out to other businesses and pitch their services/products. B2B data analytics support your customer acquisition and retention. It can help your business identify new sales leads and get in touch with them.
Who uses B2B data and for what use cases?
Let's say you want to reach out to companies who are retail companies and in those companies, you want to reach out to the purchase managers. Prospecting for new buyers is one of the biggest challenges that face manufacturers. Data can help you, but sourcing B2B insights is hard to do in a time and cost efficient way. This is where you would use a B2B database provider.

(Click image to enlarge)
Many sales and marketing people find it difficult to accurately target – or engage with – their ideal buyers. Data can help you to understand your audience and prospects better. This will help you to prioritize and plan your outreach campaigns for better results.
For example, a custom B2B sales data provider can provide you a list of specific sales triggers based on intent or technographic data that allow you to see if your prospects are at this point in time interested in a product such as yours. With so many innovations in the business world, B2B Data is crucial to the results and productivity of marketing and sales teams. It can help with a range of activities such as prospecting-using a range of filters to create lists of contacts your sales team can use; and cold reach- providing your sales team with up-to-date, accurate data that can be used to get in touch with people who look like great leads for your business; and account based marketing- good B2B Data is the fuel for successful ABM campaigns.
Information on a company's spending on tech can be used to qualify prospects before you engage with them.
The advantages are huge. The old-style methods of hunting down new business are obsolete. A lot of businesses still operate in "safe" mode, where they sell to who they've sold to in the past and try to squeeze in a little bit of prospecting effort on the side. Sales hardly increase.
With the help from data-driven knowledge, you can easily outperform the old school prospecting and reliance on repeat business model that many businesses are still relying on today.
What are typical B2B data types?
There are different types of B2B Data you could use depending on your target accounts; your product; medium for lead generation; etc. Some of the different types of B2B data include: accounts data, technographics data, firmographics data, intent data, engagement data and contact data.

(Click image to enlarge)
Let's take a look at each of these in turn:
Firmographic data - Firmographic data is types of information that can be used to categorize organizations, such as geographic area, number of clients, type of organization, industry, technologies used and so on. The data is used to segment organizations into meaningful categories.
Technographic data - refers to information about a company's technographic profile and its use. Technographics is the profiling of target accounts based on the technology they use. It works at bringing depth to prospect profiles that are based on firmographics and is generally used by B2B sales/marketing teams to complete their understanding about their clients, prospects, and competitors.
Intent data - B2B intent data provides insight into a web user's purchase intent; allowing you to identify if and when a prospect is actively considering, or looking to purchase your (or similar) products or solutions, enabling informed, timely campaign decisions.
Contact data – As well as lnowing the important facts about how a company operates, you need to know who the decision makers are so that you can get in touch with people who can actually make an impact with you. Contact data enables you to achieve precisely this.
Engagement data - Measures the response sour messaging is recieving from your audience; social media likes and shares, time spent on your webpage, bounce and exit rates, etc…
Accounts data - B2B data is the key ingredient to targeting the right people in the right accounts. Your company depends on accurate, up-to-date business marketing data. Account-based marketing uses personalized and highly tailored campaigns to generate leads. It is based on the assumption that B2B buying decisions are usually made by a select group of people rather than a single person.
Contact data - are lists of companies, including e-mail addresses of the contact persons working at those companies, that are used by other companies to get in contact with those other businesses to sell their products & services.
How is B2B data typically collected?
B2B data collection starts with collecting what you already know and then finding the right sources to supplement it. Your internal data comes from your billing systems and CRM tools. Businesses can then purchase external datasets, to enrich their existing knowledge to create in depth insights about their potential customers.
It's important to define an end-goal as this will define the B2B Data you require. If your goal is to use your B2B database as a source for new, quality, qualified leads, you will need different B2B Data than if your goal is to understand credit scores. Once you know what B2B Data you require, you will be in a position to supplement your existing data with that supplied by a relevant B2B Data provider.
External data providers work with the latest technologies to collect vast amounts of raw data for your needs. They implement technological solutions on the web to measure your prospects technological stack and buyers readiness. They have robots scraping the web for interesting insights from social media, company registries, and others.
How to assess the quality of B2B data?
Having good quality B2B Data is essential for a business. One of the best ways to ensure your company is purchasing good B2B Data is to buy from a reputable source. A good B2B provider will be GDPR Compliant and has many happy customers. Ask your data provider to provide you with a list of reference customers with their contact information.

(Click image to enlarge)
A reliable data vendor will ensure the B2B data is regularly cleaned, validated, and updated to improve your ROI and make sure everything is up to date. You can also consider asking the provider for a sample set you can use to test the data in its intended environment before putting your name on a contract.
How is B2B data typically priced?
In-house systems or outsourced providers are the two main models for acquiring B2B Data. In the first system, the company would need to purchase raw data and train a team or else hire a freelancer to cleanse it. This is a time-consuming method. Sourcing, cleansing, validating, and storing your B2B Data takes a lot of work and can become costly.
Depending on the data type and its use case some of the more common pricing models we see in the market include:
Monthly subscriptions to real time databases
One time payments for larger historical datasets
Custom quotes for larger enterprises with special needs
Most companies prefer to rely on automated B2B data solutions and have their sales team's time better spent having conversations with qualified leads and closing new business. B2B data service providers enable your team to save time prospecting, and spend more of their time closing deals. Using a B2B Data supplier will provide your team with accurate, up-to-date, and GDPR-ready data.
What are the common challenges when buying B2B data?
One of the common challenges of B2B Data is storing it. Storing B2B Data in a secure, GDPR-compliant way is more important today than ever. Companies are at risk of data breaches and need to ensure their B2B data is stored securely.
Ensuring accurate up-to-date data is another challenge. Many organizations have challenges with email deliverability. In addition to this, much of the data in the average B2B databases is considered inaccurate. Email databases decay by over time. Regular data validation will help you reduce bad matches. If you have low engagement rates, high email bounce rates, or are using old contact lists, then data validation will improve those.
What to ask B2B data providers?
How is the B2B data collected?
Does the B2B data system remove inaccurate data (e.g. out of date job titles) and remove duplicates that already exist in your database?
Does the B2B data system validate the emails using relevant tools?
Does the B2B data system have integrative tools, provide insights into your customers, provide access to valuable sales triggers etc?
Conclusion
We hope our overview of B2B data has shed some light on the B2B data type that will be useful for you!
Be sure to check out the list of B2B data providers on Datarade for help finding the right B2B data for you.
Who are the best B2B Data providers?
Finding the right B2B Data provider for you really depends on your unique use case and data requirements, including budget and geographical coverage. Popular B2B Data providers that you might want to buy B2B Data from are Krill Technologies, Cloudlead, Thomson Data, Global Database, and LeadSift.
Where can I buy B2B Data?
Data providers and vendors listed on Datarade sell B2B Data products and samples. Popular B2B Data products and datasets available on our platform are B2B Leads Data by Slintel, Datastream B2B from a B2B Platform by Datastream Group, and Real-time B2B Data API by Salutary Data.
How can I get B2B Data?
You can get B2B Data via a range of delivery methods - the right one for you depends on your use case. For example, historical B2B Data is usually available to download in bulk and delivered using an S3 bucket. On the other hand, if your use case is time-critical, you can buy real-time B2B Data APIs, feeds and streams to download the most up-to-date intelligence.
What are similar data types to B2B Data?
B2B Data is similar to Environmental Data, Energy Data, Real Estate Data, Geospatial Data, and Commerce Data. These data categories are commonly used for Account-Based Marketing (ABM) and B2B Data analytics.
What are the most common use cases for B2B Data?
The top use cases for B2B Data are Account-Based Marketing (ABM), B2B Marketing, and Lead Prioritization.
Popular B2B Data Use Cases
Find out the most common applications of B2B Data.
Featured Top Lists for B2B Data
Explore featured lists of providers for B2B Data.