The Ultimate Guide to B2B Contact Data 2021
Learn about b2b contact data analytics, sources, and collection.
B2B contacts are the cornerstone of any effective B2B marketing strategy. The trouble is, it's becoming difficult to maintain a B2B contact database which offers the scale required to keep our sales pipelines heated. As more businesses flood the market, the more information about them is out there - and the more time-consuming it becomes to separate the high-quality B2B contact data from the bad.
Investing in a sales contact database is the quickest, most cost-effective way to ensure you have all the needed information about prospective clients at your fingertips.
"Does your business get the most out of B2B contact data and its potential?"
It would not be an overstatement to say that B2B contact data is in high demand. B2B contact data can be a goldmine that you will wish you found sooner. Let us tell you all there is to know about B2B contact data:
What is B2B contact data?
B2B contact data is information which will enable you to get in contact with other businesses, so usually their phone number or email address. Any business which delivers products or services needs to know about other businesses who are in need of these products or services. Once you have figured out where the demand for your solution lies, B2B contact data gives you the means to act on it. This is done via contact information of the important decision makers in the targeted companies.

(Click image to enlarge)
Why is B2B contact data important?
Today, most businesses market their product or service to another business through remote means, such as phone or email. In order to get such information about the target company and establish this first line of contact, B2B contact data is essential.
Not only that, but B2B contact data is also important to improve your current means of segmentation. If you know about your target audience through B2B contact data, you can make sure that your current marketing campaigns such as email marketing or cold calling are carried out with this specific segment or demographic in mind.
For example, you could run a business which manufactures infrared sensors on a medium scale. The B2B contact list you'd need would include contact information of decision-makers in companies that manufacture televisions, robotics, automation devices, and any other company that uses infrared sensors.
Once you have the necessary information about the businesses which need your product, you could then market your infrared sensors by reaching out to the decision-makers in target companies via the most effective channels according to your B2B contact data, and gather more business.
Key Attributes of B2B Contact Data
While the contact information of a business' key figures and decision-makers is an important part of B2B contact data, there are other crucial attributes as well. It all depends on the requirements of the business in question. Here's some of the most useful attributes of a company contact database, but bear in mind that this list isn't exhaustive.
"It's not just about who you're trying to reach, but where they are and how you plan to reach them."
Decision-Makers' Information
A B2B contact list identifies the decision-makers in your prospect company and lets you see how these people can be contacted directly.
With this data, you can be sure that you're in contact with the person who will have the final say over whether to make a purchase or not. A good B2B database will put you in communication with the head buyer of a company, for example, not an intern!
Company Geography
B2B contact databases can tell you where a company is situated, including the zip code, address, and information about their other branches as well.
Knowing this, you can divide your business audience into segments, based on supply chains, transportation and logistical factors, and demographic information.
Size of Company
B2B contacts can include the number of employees in the company, the revenue and the annual profit of the company, and any other factor that indicates its size.
This can be vital information for you when you're deciding whether the prospect is a good fit for your products or service. Far too often we see sellers approaching organizations with solutions that have no chance in fitting to the prospects current budget.
Company Industry
Included in a B2B contact database is the category and name of the industry the company belongs to, along with the relevant industry codes such as NAICS and SIC code.
This makes it quicker and easier to find useful B2B leads according to the vertical segments you'd create.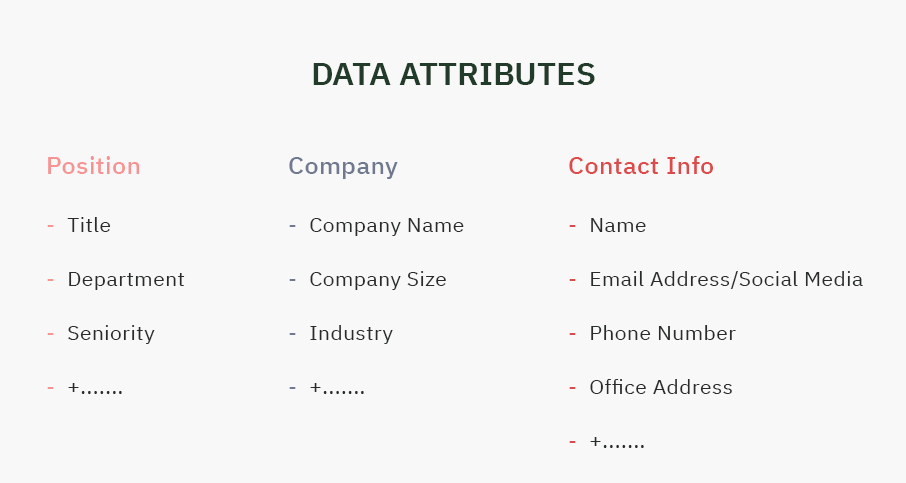 (Click image to enlarge)
It's worth noting that there's some overlap between these attributes and the attributes of other B2B data types, such as firmographic. This isn't surprising: all sub-sections of B2B data are being used to enhance how businesses market their services.
The aim of the game is to convert the prospects into leads. With a combination of an extensive B2B contact list and reliable B2B intent data, you'll be able to know what businesses are looking for, and get your product on their radar at the right time.
What is a B2B prospect database?
A prospect database is a repository with company names, addresses, contact names, etc. B2B prospecting refers to the process of engaging potential consumers and convincing them to buy. B2B prospect lists can be built in many ways, such as by use of LinkedIn information, through building an ideal customer profile, getting expertise from B2B data providers, networking, and research. A prospect list is the most crucial asset in a B2B marketing drive. It can be used to segment audiences, facilitates quick closure of sales, and in developing marketing solutions for key accounts.
What is an example of B2B?
B2B business models are designed to facilitate sales between two businesses. Automobile manufacturing is an excellent example of a traditional B2B market - the manufacturer sells to dealerships. Other examples include; Skype, New Relic, BulkBookStore, KinAxis, Herman Miller, Kickstarter, and WeWork. Each of these examples has its specialty. For example, WeWork is specially designed to build community and shared office spaces. WeWork focuses on enhancing entrepreneur and business experience. WeWork's design is based on optimizing engagement through office space designs. Competition between different B2B platforms is stiff and therefore more businesses are turning to B2B data to ensure they reach the right accounts.
What are the sources of B2B contact data?
The main sources of B2B contact data are physical collection, the reports and records kept by a company and about them, lead magnet tools, and sometimes social media and website content.
However, marketers are becoming more and more creative each day to find optimum solutions to finding B2B contacts information of professionals.
Generally, companies do not collect B2B contact data directly. B2B data is collected by data aggregation agencies. This is because the internal contact details database kept by a company can only usually be as wide a scale as its current audience. This is why marketers often gather their own inbound leads and later rely on solutions like b2b phone number and email address finders to fulfill any missing information about the prospects.
If the company wanted to grow this contact list database, it would be a time-consuming and not necessarily fruitful process to gather contact information manually. That's why so many businesses are turning to B2B data providers to do this job for them. When you buy access to a B2B contact database provided by a vendor, the data will have been collected via one of the following:
Physical Data Collection
B2B contact data can be collected from events such as boot camps, conferences, trade shows etc. You will often find feedback forms at these events, which also build up the B2B contact database, as does information collected through physical surveys.
Records and Reports
B2B contact data can also be collected from government records, the companies' revenue reports, company registries, magazine subscriptions, and similar records. While the information in these records and reports is very accurate, these sources need to be regularly updated. For instance, a company's size or its revenue is going to change every year. Therefore, these changes need to be updated in the database as well.
Lead Magnet Tools
B2B contact data is also collected from lead magnet tools. An example of this includes gated content, where the user provides their phone number or email in order to view the content. This contact information is then collected for the business contact database.
Lead capture forms work in a similar way to gated content. They're pop-ups which appear on landing pages or the page before a purchase. Users share their email or phone number in order to get access to something they are interested in. These credentials are then added to the lists of B2B contact data. Key benefit of this method is that it allows contact data to be collected automatically over a wide range of platforms and media.
Other creative applications of lead magnet tools include offering free trials for software or services where users share their email address and other personal information to create an account. This information is then shared with data partners for data aggregation purposes.
Email campaigns also form a significant way of collecting B2B contact data on an opt-in basis. There are also surveys where people share their data in order to be contacted in future.
A problem associated with lead magnet tools is that people can submit incorrect information during the opt-ins. However, this can be overcome by using more sophisticated lead capture forms, which are cleverly-designed to not feel like a submission of information.
Web Scraping & Social Media
With developments in technology like natural language processing (NLP) data aggregators are now enabled to scrape the whole of internet for data of their interest. B2B contacts can be found by listening to social media like LinkedIn or directly scraping company websites and registries.

(Click image to enlarge)
Once data is collected from these sources, the data is supplemented with data acquired from additional research. This research adds more depth to the already-collected data, and can tell us more about customer patterns and their buying behaviour.
Generally, collecting all of this user data demands too many resources for a single company. This is why data scraping and data sharing among data aggregators is a more common method of building a company contact information database.
Further, if you are a business that needs B2B contact data but you do not have a data aggregation team, setting up one can incur huge investments in resources and time. Therefore, companies in need of B2B contact data prefer buying it directly from the data providers, who can provide this exact data effortlessly. The result? The company saves money, time, and precious man-hours which can be directed elsewhere.
Is B2B contact data a part of sales intelligence?
B2B contact data is part of sales intelligence. Sales intelligence involves tools, like a B2B contact feed or list, to optimize sales processes and speed up sales cycles. These sales intelligence tools are designed for B2B sales-people to help them sell their products and services to the right contact in a prospect company. B2B contact data is part of B2B intelligence, which gets more intelligent daily through machine learning and web scraping. The contact and company data provided by sales intelligence tools focus on the target account and contact to provide intelligence including demographic data, firmographic data, and technographic data about the prospect.
How can B2B companies use data to improve customer data?
B2B customer data platforms enable the creation of audiences and audience segmentation. One of the best ways to reach customers through B2B data is to enrich or personalize the data. Personalizing B2B data can be achieved through addressing different aspects of an audience and focussing on key accounts. B2B companies target accounts based on customer data enrichment which reveals which clients are most likely to close a deal.
How can I assess the quality of B2B contact data?
Like with most data types, the evaluation of data quality starts by understanding the collection methods.
The quality of B2B contact data is vital in determining whether it is useful for you or not. In fact, when it comes to B2B contact data, quality is more important than quantity. Likewise, quality isn't always universal: a B2B contact data considered high quality for one company might not be of the same quality for you.
The Importance of Evaluating Quality for B2B Contact Data
If you do not select the right quality B2B contact data for your business, you might end up having to get it again from another data provider, and the cycle will follow.
According to reports from 2018, almost half of sales representatives felt that they waste time finding out the correct contact information of prospective leads. Providing your sales team with high-quality B2B contact lists diminishes the time your sales team spends on contact information hunt, and lets them focus on conversions.
Factors that Influence the Quality of B2B Contact Data
There are a few factors that can point you towards whether a B2B contact database is high-quality, or not. Businesses should always demand a sample of the data from the data vendor so that they can evaluate the quality of the data for themselves.
There are various factors that can lower the quality of a B2B contact database. Some of the important factors include:
Accuracy
Accuracy is a very important factor in B2B contact data quality assessment. For example, in lead magnet tools, people often fill in incorrect information in the contact field. This can lead to incorrect entries in the database if no verification is done.
As another example, a B2B contact data list might have the company and employees working for them mentioned correctly. However, what if some of the employees are working in a different location than the main company headquarters? This might lead to incorrect data entries. Inaccuracy can also be caused if the B2B contact data is not updated regularly. This is especially the case in fields like company's size or revenue.
Incomplete Entries
Missing fields in a B2B contact data decreases the quality of data and leads to more effort on your end, and can decrease the effectiveness of your sales campaign. For example, if you collect a B2B contact list but it is missing a lot of entries in the email address field, it is going to lead to decrease in the success of your email campaign unless you are ready to sacrifice precious resources in researching and filling out those missing fields.
A major cause of incomplete entries in the database is when the information from various collection sources is not properly conjugated and compiled.
Duplicate Data
Duplicate data means that the same entry is repeated on the list. This decreases the quality of B2B contact data in the sense if you contact the same contact twice, you're wasting resources. The main reason for duplicate data is poor formatting in the creation of the database or poor attention to detail, resulting in errors like misspelling a company's name so that it appears as two separate entries on the B2B contact list.

(Click image to enlarge)
Weighing B2B Contact Data Metrics
The importance you place over one factor or the other generally depends on the type of data that you need and the reason you need it. While a database that has too many of the quality concerns that we mentioned should be always avoided, there will be times when you will have to prioritise one quality aspect over the other.
Generally speaking, accuracy is the most important aspect. Inaccuracy in B2B contact data will mean that you are walking in the wrong direction. While duplicate data and incomplete entries will mean that you have to invest a little more effort to get the desired results, inaccurate data will never get you any closer to your leads.
This is why most data providers give you delivery guarantee rates which can help you gain an understanding of which portion of the database can actually be reached with the current contact information. We see 90% as being a good starting rate when evaluating data providers.
Who is using B2B contact data?
B2B contact is being used by marketers, sales teams and managers worldwide. It's useful for a whole range of businesses and departments within those businesses. Whether you're looking to find the best contact databases for small business or a larger corporation, see how you can incorporate a B2B contact database to your organisation's operations:
Marketers:
Marketers can make use of B2B contact data to identify their target audience and accelerate their marketing campaigns. While the audience based marketing campaigns can succeed without B2B contacts, using this data enables marketers to target individuals through email outreach etc. B2B database marketing is the latest trend right now, for all the right reasons.
Further, marketers can incorporate the various attributes present in the B2B contact data and customize their campaigns to suit their leads. This makes sure that their audience gets the marketed material in a personalized manner, leading to a higher success rate. In fact, according to surveys, 63% of marketers find it hard to collect leads. B2B contact data provides a whole lot of convenience in that regard.
What's more, since a B2B contact list contains multiple attributes such as phone numbers and email addresses of the important contacts, marketers get the opportunity to practice omnichannel efforts in their campaigns.
Sales Teams:
Sales teams need to contact their prospects to push their product. Earlier, this used to be done by hard research or door to door marketing.
However, with B2B contact data, the process has become considerably more productive. A B2B contact data provider fills in the pipeline for the sales team, giving them information that was hard or impossible for them to get otherwise.
With the B2B contact data, the sales team can directly approach the people who influence the decision-making process in the business.
Managers:
Managers can use B2B contact data to steer their course for the future. B2B contact data provides managers with information about what would interest their target audience. When this is enriched with B2B intent and firmographic data, managers are able to see clearly which segments are in need of their product or service, and also can predict upcoming changes to the market based on these behavioural patterns. Therefore, by combining B2B contact data with data types managers can develop intelligent business insights.
How can I use B2B contact data?
Once you've obtained the business contact data from your vendor, you can use it in a variety of ways to boost your sales and marketing campaigns. These include:
Multi-channel Marketing:
As mentioned before, detailed business contact data helps to diversify your marketing campaigns. For example, if your marketing campaign so far used only email communication, having the additional information of your leads can enable you to add other methods like social media targeting in to your marketing mix.
Segmentation:
A B2B database will help you segment your audience, which goes a huge way in securing leads. Segmentation allows you to create personalized lists that will cater to the needs of your target contacts so you know you're marketing a product or service which is useful to them.
Studies suggest that people are 14% more likely to click on your email if it is a part of a segmented email campaign, as compared to emails from the traditional email marketing campaigns.
Qualifying Leads:
Yes, B2B contact data is important in giving the right content to the leads, but its usefulness begins way before that: you can also use it to qualify the important leads. With knowledge about decision makers, you can for example, weed out the leads with no authority in the organization. After all, the right content is not much use if you are not targeting it towards the right people.
Customer Service Interactions:
Don't overlook how valuable a B2B contact database can be for improving your customer service interactions. Handling customer queries can be hard to answer at times without knowing their particular interest areas. Detailed B2B contact lists detailed can be of particular use in this area. This also helps in personalizing the messages, which means that you will get a higher success rate.

(Click image to enlarge)
Business Use Cases of B2B Contact Data
B2B contact databases are used by businesses big and small for acquisitions, activations, retention, upselling strategies, and data enrichment. However, once you've bought a developed B2B contact list from a vendor, how you use it is entirely up to you - be as innovative as you like in how you apply it!
Let's see how B2B contact can work in practice:
Acquisitions:
A B2B contact finder comes in very handy for acquisitions. By combining contact databases from various sources, you will know what your ideal client would be. It goes further than assessing employee count or the annual revenue of the company. You can use additional data types to extract information like funding rounds or technographic data.
Further, since the B2B contacts can help you target the right people, your marketing and sales campaigns are going to show very positive results. After all, we all know how much it costs to create an effective marketing strategy. If you are directing that strategy towards the wrong people, it means that your investment is going to waste.
Account Activations:
Once you have targeted your ideal customers, your B2B contact database will help your sales team to secure them as clients. Further, with B2B contact data, you can make sure that your ideal client is getting what they are looking for when they need it. Also, B2B contact data helps in not just scoring a particular, isolated lead, but the entire account of the company.
Data Enrichment
Data enrichment is the process of supplementing the first-party data already at a business' disposal with the third-party data they've bought from an external provider.
An external B2B contact database helps in optimizing your own business database by allowing you to fill in the empty gaps that are present in your own business database.
Based on the insights from a B2B contact database, you can spot new prospects in your pre-existing data. For example, if you have a list of clients that you are looking to score, insights like revenue and growth will tell you which avenues to go down, depending on how close the client is to your target buyer.
Does a B2B contact database include company information?
Company information is part and parcel of a B2B database. A B2B database will most likely contain primary business contact data. The contact data contains firmographic data. Company performance information, company size, company industry, and company geographic location all fall under firmographics. B2B databases provide more granular contact data. For example, apart from merely stating a company employee's contact data, the database provides more information on that specific employee's influence on company decisions. On the other hand, company information includes; legal structure, mission statement, management team, location, and history.
What are the challenges with B2B contact data?
While you may be doing the best you can when it comes to B2B marketing, there are still some challenges you can face with B2B data, no matter the type of data.
In this section, we will discuss the common challenges that come with B2B contact data - and how you can overcome them.
Challenge #1: Maintaining the Integrity of Data
The B2B contact database that you acquire is not constant. It is full of unpredictable variables and the number of attributes and contacts in the database can change at any time.
For example, people can get fired from one company and join another one. There are times when people change their phone numbers. When people get married, they adopt a new surname. This means that their current name could be totally different from the name in the data entry. In data collection types such as the lead magnet gates, people can often enter incorrect information on purpose.
Overcoming the Challenge:
This challenge can be easily overcome with measures on your end. The important thing to do is to check the B2B contact database sample beforehand to know if it is updated regularly and that you can verify this will continue if you buy B2B data from the vendor.
Further, if you have the capability and resources, you can do regular internal data audits to make sure that your data is in the best shape at all times. In the audits, the incorrect entries can be deleted and updated with the correct ones.
Challenge #2: Synchronizing Marketing and Sales Effort
While businesses can successfully obtain the B2B contact list database, they may still face the problem of making full use of it. The marketing team has the task of identifying leads which qualify for your business, and the sales team then has the task of securing those leads.
However, if the marketing and sales team aren't aligned with each other, one has to do the work of the other in many cases, leading to inefficient campaigns and wastage of resources. In fact, some surveys suggest that sales teams spend 64% of their time just sourcing their candidates.
Overcoming the Challenge:
Providing the sales and marketing team with a shared dashboard helps encourage proper coordination between the teams. With the shared dashboard, the sales team can check the qualified leads, and the marketing team can know which qualified leads get secured as clients. This helps both of the teams in optimizing their strategies for the future.
How to select a B2B contact data provider?
We hope that we've shown you by now how a B2B contact database has the potential to change all aspects of your business strategy for the better. Investing in it will open up opportunities which you'd never find using internal data alone. With contact lists and finders available instantly, thanks to B2B contact data, B2B marketing has never been so easy and cost-effective. Bearing in mind how the quality of B2B contact can vary and influence the quality of your campaigns, selecting the right B2B contact information from data providers is very important. Here are the main things to consider when selecting which B2B contact data vendor is right for you:
Step 1: Defining the Data Need
First things first, you need to consult with your internal stakeholders as well as the sales head and marketing head of your business to decide what the reason behind the data acquisition are. Based on your decided use case, you will know which attributes are vital for you.
Step 2: Identifying Key Performance Indicators
Once you are through with step 1, you will need to define the key metrics that will help you in calculating the return on investment. Based on that, you can calculate if it is cost effective for you to get the B2B contact data from a data provider in the long run. A good tip in this regard is to evaluate the process backwards. Given your average conversion rates and business goals, find out what the number of needed contacts is.
Step 3: Evaluating the Scope & Scale
The quantity of data will positively influence a lot of parameters like speed, flexibility and the scale of your campaigns.
Can they meet your needs from step 3? Ask the vendor how extensive their business contacts directory is. It's also worth asking which areas are covered in the business contacts directory. It's no good if your vendor has millions of B2B contacts, but they're all based in a country where you have no plans to sell your product.
When it comes to evaluating the quantity, you should also evaluate how much data they are adding to the database on a monthly basis and their turnaround time for providing you with the data. At times, data from a single data provider will not be sufficient for your campaign - for example if your audience segments have a clear demographic, but the businesses which comprise it are spread out all over the world. In cases like these, it is important to have the data from multiple vendors so that other factors, like geography, don't go unacknowledged.
Step 4: Assessing Quality of Data
As described before, low quality data will lead to campaign inefficiency and poor utilization of resources. Therefore, you will need to assess the quality of the B2B contact data beforehand.
It is not just about providing you with an accurate B2B email list and phone numbers, but also making sure that the data has information in the fields where you need it the most. It's also worth looking into the data verification processes of the vendor. If the data vendor is following high data verification standards and is certified by independent auditors, the chances of you creating an efficient campaign improve hugely.
Step 5: Finding Out the Cost
Once you have identified the data vendors that can fulfil your data needs, you can separate them according to the pricing models they offer for their B2B database. Various data vendors price their B2B contact data differently, therefore you will need to keep in mind the budget that you have to buy the B2B contact data. Some B2B contact data vendors might offer low price per unit, but they might ask for a longer commitment upfront. You may instead opt for the flexibility of a 'pay-as-you' go model, which comes in handy when you want to scale your operations up or down.
In general, it is a good idea to weigh accuracy over the quantity of data if the price is more or less the same. In this regard, you should also agree with the level of accuracy you're expecting from the data vendor before you commit to buying. As mentioned earlier, with B2B contacts data you should refer to delivery guarantee rates and compare those across various providers.
Who are the best B2B database companies?
The best way to acquire B2B information is to buy B2B data. There are an increasing number of providers and platforms from which B2B data can be bought online. The driving force behind shopping for B2B data is that B2B sales is becoming increasingly competitive. Different B2B databases specialize in different aspects. Some of the specialties include real-time contact data for startup businesses, LinkedIn details, email addresses, enterprise focus, and the budgets of B2B targets.
How is B2B contact data priced?
When it comes to B2B contact data, the price will vary from demand to demand and vendor to vendor. If you're looking at a price per contact model, you will find that vendors offer you this data very cheaply, but the accuracy of this data will be low (delivery guarantee rates even as low as 30-40%). The higher the accuracy, the higher the price.
The price of this data can also vary based on the size and type of the industry, location, niche targeting.
To reinforce the key message: the most important thing is to receive a data sample so you can access the data quality in its intended environment, and benchmark it against your current KPI's. If a data provider is unwilling to offer you a sample, it is perhaps a good idea to rule out that data provider.
Conclusion
For your business to flourish today, you need to adopt optimum B2B marketing and sales strategies. A solid B2B contact database is the number one source of fuel for your lead gen and sales engines.
You cannot just pick any B2B contact database and start using it. Every database has its own level of quality, attributes and scale - which all vary between the data vendors.
By now, you should now know what to expect from a B2B contact data, how to implement it, and what to look for when you go to buy it. All this while ensuring that your sources are of the highest quality.
B2B business marketing is becoming more advanced by the day, with the biggests winners tapping into the potential offered by a contact database. Don't wait for your clients to come and find you - get access to the data you need to go and find them. Rest assured, Datarade is always here to assist you with finding the perfect database and B2B contact data providers that suit your business seamlessly.
Who are the best B2B Contact Data providers?
Finding the right B2B Contact Data provider for you really depends on your unique use case and data requirements, including budget and geographical coverage. Popular B2B Contact Data providers that you might want to buy B2B Contact Data from are Slintel, Lead411, Infotanks Media, Every Market Media, and Span Global Services.
Where can I buy B2B Contact Data?
Data providers and vendors listed on Datarade sell B2B Contact Data products and samples. Popular B2B Contact Data products and datasets available on our platform are Slintel B2B Contact Data: Worldwide Coverage, 17M+ Companies by Slintel, Lead411: 2x Verified B2B Contact Data by Lead411, and B2B Contact Data | B2B Lead Generation by GBSN Research.
How can I get B2B Contact Data?
You can get B2B Contact Data via a range of delivery methods - the right one for you depends on your use case. For example, historical B2B Contact Data is usually available to download in bulk and delivered using an S3 bucket. On the other hand, if your use case is time-critical, you can buy real-time B2B Contact Data APIs, feeds and streams to download the most up-to-date intelligence.
What are similar data types to B2B Contact Data?
B2B Contact Data is similar to B2B Leads Data, Firmographic Data, Technographic Data, Business Ownership Data, and B2B Intent Data. These data categories are commonly used for Lead Generation and Account-Based Marketing (ABM).
What are the most common use cases for B2B Contact Data?
The top use cases for B2B Contact Data are Lead Generation, Account-Based Marketing (ABM), and B2B Marketing.