The Ultimate Guide to Technographic Data 2021
Learn about technographic data analytics, sources, and collection.
When a business properly understands a customer's - or a competitior's - technology stack, the potential for growth skyrockets. Knowing which hardware, software, tools and applications a company uses can enable B2B marketers to roll out sophisticated ABM campaigns. And getting an insight into the technologies used by their competitors makes it easier to conquest their market share.
This is technographics. The fastest and easiest way to access this powerful knowledge is by incorporating technographic data into your business decisions.
Read on to find out all information you'll need to find the right technographic data for you, so that your company can chase up on the hottest prospect leads and generate revenue.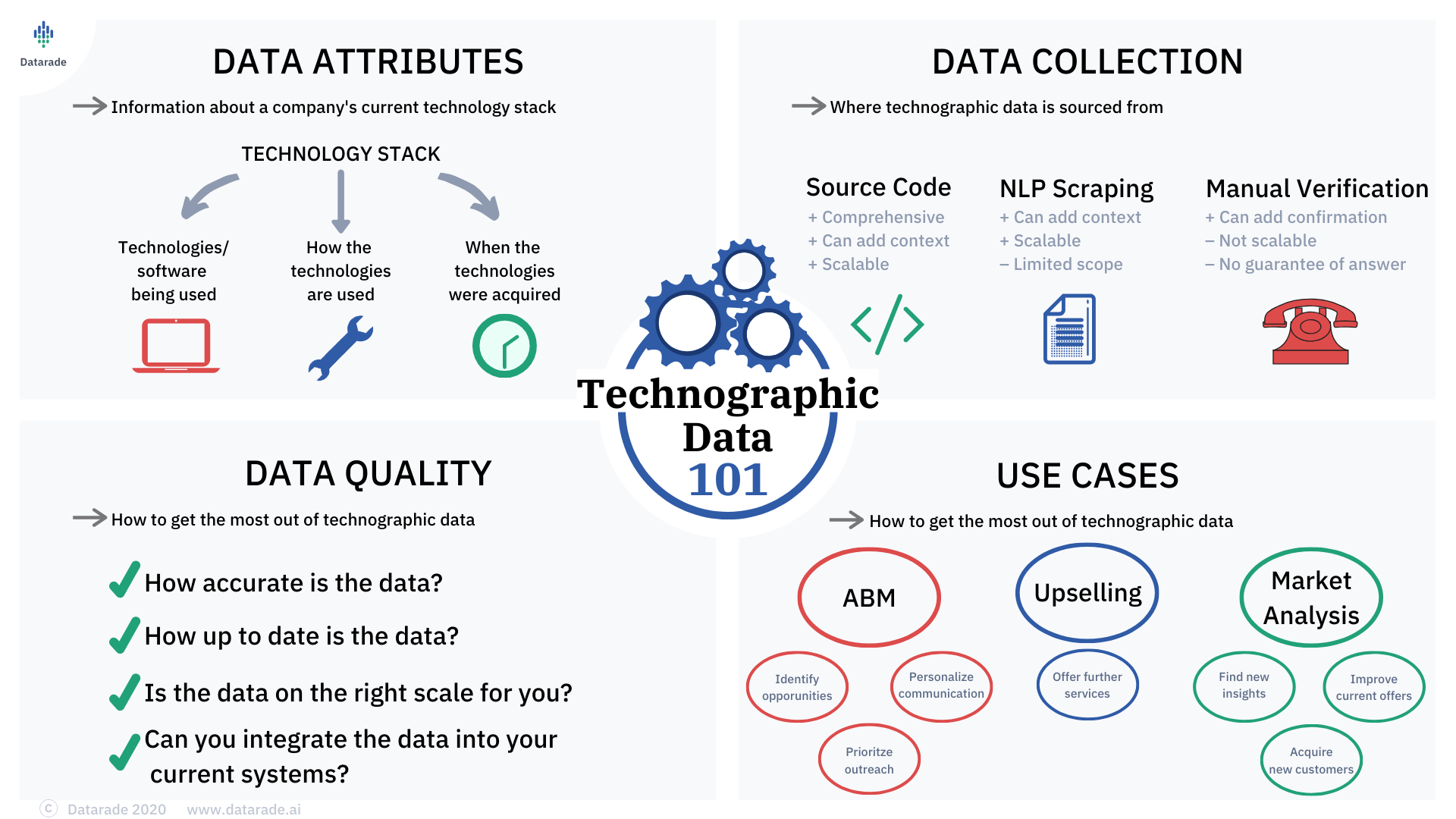 (Click image to enlarge)
Technographic definition
Technographics, or technographic data, refers to the technologies and software that companies use to run their organization. Technographics can be used to segment, study, and target organizations within a market, much like the similar data types "demographics" and "firmographics". The process of this segmentation is called "technographic segmentation". Technographic segmentation is used to create the most in-depth technographic profile of a B2B prospect. This information can then help you match deliver supply where there's demand. If you can spots gaps in a company's technology stack, and your product or service is good fit for them, you can plan timely and targeted communications.
An understanding of technographics is especially useful in every stage of account based marketing (ABM), from nurturing the account, to personalizing the sale, to identifying opportunities to upsell. Technographic intelligence can also help with maintaining an up-to-date perspective on your target market.
In a world full of highly competitive services and solutions, technographic data providers can give startups, SMEs, and established brands the edge. Technographics tools can make all the difference when it comes to account management and making business decisions.
What is technographic data?
Technographic data is information about a company's current technology stack. In other words, it's a comprehensive appraisal of the software and technology being used by a company at a given time. This includes what the technology is, what it's being used for, and when it was acquired.

(Click image to enlarge)
Technographic data is similar to firmographics data, but instead of being about what a company is and what it is doing, it's about which technologies are being used by the company and for what purpose. It's also similar to psychographic data in the sense that both data categories are used to calculate customer intent. The difference is, business technographics takes the whole company into account, not just the behavior of one individual employee or decision-maker. Likewise, it's not the same as demographics data, which tells you about a group of people. Technographic data tells you about a specific company and its technological assets, not its employees.
Now that we've covered the technographic data definition, let's look at how technographics work in practise.
Technographics examples
Here are the core data attributes for technographic data:
The technologies being used (such as accounting software, web design software, hardware like monitors and laptops)
How the organization is using these technologies
When the organization acquired these technologies
A company's technology stack offers a unique look into the organization. It can reveal exactly what the organization is willing to spend money on, their level of technical know-how, and when they might be looking to invest in new technological help and martech solutions.
Technographic details provide you with this information, which you can then leverage for purposes like ABM and market segmentation.
What are the sources of technographic data?
The main sources of B2B technographics data tend to be resources provided by the company itself, though they're not always easy to access. Examples include: the company website's source code, company social media posts, and information provided through reports or discovered via phone calls. These insights are then compiled in a B2B database.
Different collection methods are used depending on the source, and the quality of technographic data tends to be linked to how it was collected. In general, you'll want to ensure you're working with technographics companies and B2B database providers which use a range of sources and collection methods.
How is technographic data collected?
Technographic data is collected in two main ways: web scraping, and manual verification, like phone calls. The collected method used will mostly depend on if the technographic data source is accessed online (e.g. website source code) or offline (e.g. phone call). The collection method can also impact the data quality, as can the source being used.
Each collection method has its pros and cons, but the overarching issue faced by companies is that technographic information is often not readily available, making it difficult to collect in the first place. Thus, collecting the data can be very time-consuming and resource-demanding for a company. For this reason, company managers are turning instead to data providers for their technographic software
Besides the saved time and effort, there are further benefits to buying technographic data from a data provider.
Firstly, you can rely on a technographics company to have a high level of experience and knowledge of the market. This way, you know that you'll be using high-quality data that's been carefully collected from a wide range of sources.
The second extra benefit is that third-party vendors often provide access to analytical software that you can integrate directly with your current business technologies. This enables you to feed real-time data into your decision making processes and perhaps enrich other existing data sets you might have for optimum technographics analysis.
Let's take a look at some of the methods with which data providers collect technographic data and how each method might affect the data quality.
Web Scraping
Web scraping in the context of technographics is the process of gathering information about a company's technology stack by crawling their online platforms and presence. It is the most commonly used method to collect technographic data due to its high scalability.
Another reason for the frequent use of scraping is the advent of current Natural Language Processing technology, which allows scraping algorithms to better understand the context and semantics of words. This improves the accuracy of scraping, meaning it can be used on a wider range of sources.
The most common sources used to scrape for technographic information are:
Company Reports
Quarterly company reports show the partners with which companies are working for tech solutions and the timeframe this occurs in. This may also include partners or services that they have recently dropped.
The reports can also reveal areas where a company might be underperforming and therefore in need of a new product or service.
However, the likelihood of this information being available via the reports can vary from company to company. Moreover, the report may not be particularly recent, meaning the information might not reflect the company's current technology stack. So company reports aren't entirely reliable as a technographic data source.
Company Website Source Codes
The source code of a company's website is a goldmine for technographic information – if you know where to look. The source code can provide information on the scripts and requests needed to load the page, as well as the collected cookies.
Accessing these features via the source code reveals the software being used to actually run the page, as well as how that page links to other pages/programmes/tools that the website makes use of. This way, you can see not only which software is being used, but how it is being used.
Examples of technological information that can be found from a company website's source code are: their web hosting software, their email collector, and their digital marketing and martech tools.
Web scraping company website source codes is arguably the technographics collection method with the most advantages and the fewest drawbacks. It requires little manual labor and so is very scalable. And as we've seen, it provides a comprehensive list of the technologies being used, and can even show the context in which they are being used.
The only thing that you cannot necessarily ascertain from the source code alone is exactly when these technologies were acquired and implemented.
Job and Social Media Posts
Scraping a prospect's job listings and social media posts allows you to add context to what may already be known from another source. This makes them great for adding important context that might otherwise be missing from your technographic dataset.
For example, the source code may give you the email generator being used by a company, but a social media update could let you know when that software was actually acquired.
Similarly, job postings may show the direction in which a company is looking to expand and which technologies future employees will need. This can reveal not only what a company is currently using, but can be used for demand forecasting. Technographic analysis enhances a business' B2B sales predictions about when a prospect will look to purchase a new technology and the purpose for which it would be used.
Manual Verification
In certain cases, such as if the information is not available from the above scraping sources, or if there is uncertainty about important details, data providers may reach out to companies to manually verify their data.
The methods used for manual verification are:
Surveys and Emails
Surveys can be conducted in person, like at trade or networking events, and provide clear and current data. They can also be conducted online, either on a platform or via email, which can give them a wider reach.
The drawbacks are that this method often has a low response rate and that the manual labor required makes it not scalable.
Phone Calls
There is no denying that cold call surveying is one of the oldest and most common strategies of data collection. Data providers can call up companies to verify and gather more context on information that they may have collected from other sources.
The main benefit is that this helps to ensure very recent and accurate data, making it a worthwhile use of time in the right case. However, there are two big drawbacks to this method that limit its usefulness.
Firstly, the very effort of calling a company requires manual labor and so it's time and resource demanding and very unscalable.
Moreover, the effort of going through a call may not even pay off. It's not possible to predict if the company will even be willing to share information on their technology stack in the first place. So, from an ROI-perspective, a cold-calling campaign isn't great for technographic data collection.
How can I assess the quality of technographic data?
When it comes to purchasing technographics, the quality aspects you need to ensure are accuracy, recency, and scale. Accurate data means that the listed technologies and uses are correct. Recency helps with context. Information on when the technology was acquired ensures that you know the company's most up-to-date technological stack. Scale is important to make sure that the list of available companies offered by the data provider is suitable for your target market and to keep your leads pipeline full.

(Click image to enlarge)
Assessing the quality of technographic data can be tricky, but it's a data provider's job to assure you of the quality of their information.
To help you through the process of finding the right technographics provider for you, here are some questions you should ask data vendors you're interested in:
What are your technical data collection methods?
What are your sources of raw data?
How frequently do you update your data sets?
Can you verify whether the company still uses the software?
Can your dataset integrate seamlessly with my existing business technologies?
Can I have a technographic data sample set to test the data?
When you're confident that you can recognize high quality technographic data and that your provider offers exactly this, it's time to make sure you know what you'll be using it for and how this will benefit your business.
Who is using technographic data?
Customer service teams use technographic data alongside firmographics data to better comprehend the pain points of their customers. Companies can then utilize this information during technographic targeting and retention programs.
Business intelligence can leverage technographics data to gain a better understanding of the level of demand and how the organization should strategically place themselves in the B2B market.
Marketing and sales can gain a huge deal from technographic targeting as they aim to comprehend their audience and create appropriate messaging for their various campaigns.
Here is how B2B marketing teams can benefit from technographic data:
Sales Teams
The best way to win deals from your competitors? Find out who is using the service or products offered by your competitor and target them across several channels. Put up alerts to find out when someone drops or adds your competitor's product.
You can make use of data enrichment with Customer Relationship Management (CRM) records to personalize pitches that are appropriate for every prospect and the technology which they use.
Get notified when any of your target accounts switch any technology or show other purchasing signals such as getting a brand new office or receiving a funding round. Add B2B contact data and firmographics data with technographics to boost the efficiency of your sales development.
Customer Success Teams
Find out small risks ahead of time by identifying those buyers who are testing out a technology that is from one of your competitors.
Based on purchasing signals such as company news, funding rounds, and technology change, find out which clients are good for upselling. Integrate predictive analysis with technographics to identify clients who have potential lifetime value.
Business Intelligence Teams
For business intelligence teams, technographic data is immensely valuable. These teams can mitigate risk and improve decision-making for their businesses by using technographic data.
BI teams can also implement technographics data to find the fall or growth between the profiles of different clients and their technology purchasing habits. This data can then be leveraged by research and development teams to create new products that might fill gaps in the market.
Technographic data can also be used by BI teams to enrich existing data sets, such as firmographics or B2B contact lists, in order to create a understanding of your clients, competitors and potential market opportunities.
Over 40,000 marketing, sales, and BI team members of the most reputed and best brands make use of technographics data every single day. Such brands include Marketo, Salesforce, Hubspot, Zendesk, Outreach, Uberflip, Dyn, and many more.
How can I use technographic data?
Technographic data has 3 main use cases: account-based marketing (ABM), upselling, and market analysis. Beneath these we see 2 key sub-use cases: customer segmentation and customer journey customization.

(Click image to enlarge)
Customer Technographic Segmentation
When you profile your current customers, you construct a better picture of these customers' technology stack and the tools they utilize to tackle problems relevant to your value proposition.
For example, you might find that most of your customers utilize marketing automation software like Act-On and HubSpot. This specifies the technology brands which your prospect likes, as well as indicating their budget.
This is primarily because marketing automation is a significant investment in both resources and time. Hence, these tools indicate how committed they are regarding their marketing. Moreover, it can also indicate the size of the organization and how sophisticated their technology and marketing teams are.
Some technographic segementation examples: let's say your particular product integrates with Customer Relationship Management systems like Salesforce. Technographic data will reveal which organizations make use of Salesforce, along with any other relevant tools (which include both competing and complementary). With technographic data, you can make an assessment of the prospects' needs and challenges based on this technology.
Moreover, you can identify if they utilize in-house or cloud-based software. Organizations making use of cloud-based software usually tend to be more technologically-savvy and want to have secure but flexible stacks.
However, in-house software shows organizations that might be dedicated to their processes. For a SaaS (Software as a Service) businesses, this could be a challenging sell, as it would entail disrupting their existing technology, a change of ongoing staff training, and internal processes.
Technographic segmentation provides valuable indications of just how qualified a particular prospect is. It can also enable you to customize the sales process to your prospects' requirements based on the technology that they make use of.
Customer Journey Customization
The use of technographic data is not just limited to sales individuals. With powerful data, you can optimize the complete journey of the customer and inbound marketing funnel. This allows you to nurture leads effectively and turn a greater number of trial users into paying customers.
It all begins with the correct technographic segmentation, using data enrichment and lead scoring to construct a bigger picture. For instance, you can segment unqualified vs. qualified leads based on their marketing stack's sophistication (to give an example, are the leads using low-cost or multiple free options, or a comprehensive marketing automation solution like Marketo).
From this point onwards, you would personalize the journey to nurture the leads accordingly. You can provide your lead with truly helpful information and timely content.
Indeed, buyers are often constantly targeted by marketing messages. When you understand the technology stack of a lead, you're in a better position to offer them helpful content at each stage of the relationship.
The journey you take your customers on is dependent on the technographic data that you identified. These customer journeys might look similar to one of the following:
Complementary: Utilize this particular kind of journey if your offering enriches, optimizes, or works seamlessly with other technologies. For instance, UpLead functions perfectly with Salesforce platforms, and hence, we would target those users accordingly.
Education: If a potential lead is not making use of a provider in your industry, then it might be that they require education on the advantages of such a solution. This would take the form of top-of-funnel content, which aims to guide the lead through the buyer funnel.
Competitive: Construct a journey for those who use a competitor. Here, you would be focusing on what particularly makes your solution the better choice over a specific competitor. This requires a thorough understanding of the ins-and-outs of your competitors' data offering, allowing you to tailor this information during the process of nurturing.
Account Based Marketing
A solid understanding of a company's technology stack can allow you to be effective in finding opportunities, prioritizing accounts, and personalizing communication when managing accounts.
Finding Opportunities
With up-to-date technographic data, you'll be able to analyze the technology stack of an account and identify where your product/service may be a good fit for them. This information can also help your marketing team to properly nurture the account until it is ready to buy.
For sales teams and departments, there is huge value in leveraging an opportunity as soon as it comes into existence. You should immediately take advantage of news-worthy content and announcements that revolve around your prospects.
New press releases and announcements including technographic information are all great opportunities to engage with your target accounts and prospects.
You should begin by keeping an eye on the following:
New acquisitions and mergers
New product launches and features
New rounds of funding
Thought leadership and executive interviews
Reviews across the internet (both the negative and positive ones!)
Then, utilizing technographics data to develop your angle, gear your outreach revolving around these sorts of campaigns.
For instance, if a target account has grabbed a new round of funding but is utilizing a substandard competitor product, you can get in touch regarding the drawbacks of using such a solution during growth periods. The aim is to make them see that your comany's solution is better.
Prioritizing Accounts
Reaching out at the correct time can make all the difference when selling a product or service. Once your marketing team has properly warmed up and qualified an account with the opportunity you've spotted, your sales team can now set it as a priority.
Account prioritization is where you differentiate between accounts which still need convincing and those which are ready to buy. Technographics data can construct a more in-depth profile of the accounts, helping you to do this.
Integrate data enrichment with technographics, and you have yourself an automated method to prioritize accounts. Your sales team is now able to properly focus on the account and reach out at the right time.
Personalizing Communication
Using the right message and effective communication is as important as timing when pursuing a lead. When your sales team is reaching out to an account, information on the technologies they're currently using can help tailor communications to the representative at the account.
You can use technographic data to customize your content to fit the technology stack of the account, making it more relevant to them. For instance, your technographic research may reveal more about which technical issues they may be facing and what software they leverage at current.
This can bring you further valuable information which you can then pass onto your lead. For example, you could tell them how to utilize their new sales tool with insider hacks and tricks, as well as key insights into how to make use of the product to tackle problems and concerns which you happen to excel in solving.
For instance, you can host a webinar on identifying prospects based on their technographics. This would help narrow down to the group of individuals who have shown a recent interest to make a purchase.
This will increase the likelihood of a successful sale, and will often turn the account into a long-term customer.
Upselling
Technographic data is also useful when you've already got an account using your services.
Since you now know about your propsect's needs, budget, and goals, you're in a fantastic position to upsell more of your own products and services. Once you've gained the account's trust and proven your merit, you can make them aware of other products and services you offer.
To do this as effectively as possible, use technographic data to identify gaps in the account's current technological stack and then see where your product or service can meet their demand.
Market Technographic Analysis
A thorough understanding of the current state of technology in your target market can help you with three things: filling market gaps, developing new products, and acquiring more market share.
Filling Market Gaps
Acquiring technographic data that spans the full range of companies in your market gives you the best perspective into the area you're working in.
With this knowledge, you can identify gaps in the market that may not yet have been filled and therefore take steps to fill them.
Developing New Products
Using what you've identified as gaps in the market, you can now innovate to meet the need of this gap.
This will not only propel you above your competitors in terms of your new product, but the renown you will gain from the utility of your innovation will help with your existing products too.
Acquiring More Market Share
With information from technographics on where your competitors are doing well, i.e. the number of customers they have using their products, you can see what's working well and potentially create your own version.
With your own, likely improved version of this technology, you can now effectively reach out to these competitors' customers and attempt to convince them of the strength of your product over theirs. The natural conclusion of this is that you gain more market share at the expense of your competitors. What's not to like?
What are the challenges with technographic data?
The main challenges when it comes to technographic are finding out when and how a technology is being used and ensuring that this information is up to date. Additionally, it can be a further challenge to ensure scale in certain markets and areas, especially when the information may be out of date or unavailable.
The providers of technographic data need to be efficient enough to recognize apparent traces of software that the business uses every day. In some cases, however, the business no longer uses the software that the collection of technographic data identifies.
For technographic data providers, real-time information about technology stacks and the analysis of a company's software and hardware is very important. The engagement patterns of customers, including their duration and time of engagement, are shifting, owing to frequent technological developments. This aspect presents a challenge in gathering real-time insights about the engagement patterns and preferences of the customers.
Finally, even if there is up-to-date data that shows exactly what the technologies are being used for and when they were acquired, there's unfortunately no guarantee that this information is available on a large enough scale in some cases. So there's all the more reason to check that your data provider offers data on the right scale for you.
How is technographic data priced?
Looking to buy technographic data? Data providers offer a broad selection of pricing models for their consumers, given the diversity of all possible use cases for technographic data. Ranging from monthly and annual licensing models, to cost per prospect to annual, data providers tend to even offer custom solutions, as they want to be accessible for you.
With this in mind, technographic data pricing usually follows one of these three formats:
Subscription to data feed – The price is dependent on the granularity of information and update frequency.
Cost per lead – The price is dependent on how qualified the lead is.
Cost per batch – The price is dependent on the time taken to gather the information and the size of the batch.
Conclusion
With smart technology becoming ever-more integrated into our business operations, it's safe to say technographic data is only becoming more and more important for B2B marketing. For this reason, the sooner your company can start implementing technographic data, the sooner you'll start reaping the rewards.
Sourcing technographics intelligence yourself is often a technically-challenging and time-consuming endeavor. To ensure the easiest and highest quality data for your business, it's best to source it from top-rated technographic data providers.
Equipped with the knowledge from this guide, you can now feel confident researching, testing, and utilizing the technographic data that is right for you.
Who are the best Technographic Data providers?
Finding the right Technographic Data provider for you really depends on your unique use case and data requirements, including budget and geographical coverage. Popular Technographic Data providers that you might want to buy Technographic Data from are Slintel, Infotanks Media, GiantLeap Interactive, Span Global Services, and Data Marketers Group.
Where can I buy Technographic Data?
Data providers and vendors listed on Datarade sell Technographic Data products and samples. Popular Technographic Data products and datasets available on our platform are Slintel Technographics Data Platform: Worldwide Coverage, 17M+ Companies by Slintel, Technographic Data Complete Tech Stack | Technographics Data + B2B Data + IT Intelligence by Infotanks Media by Infotanks Media, and Lead411 Company Firmographics and Technographics by Lead411.
How can I get Technographic Data?
You can get Technographic Data via a range of delivery methods - the right one for you depends on your use case. For example, historical Technographic Data is usually available to download in bulk and delivered using an S3 bucket. On the other hand, if your use case is time-critical, you can buy real-time Technographic Data APIs, feeds and streams to download the most up-to-date intelligence.
What are similar data types to Technographic Data?
Technographic Data is similar to B2B Leads Data, Firmographic Data, Business Ownership Data, B2B Intent Data, and Job Postings Data. These data categories are commonly used for Marketing and Account-Based Marketing (ABM).
What are the most common use cases for Technographic Data?
The top use cases for Technographic Data are Marketing, Account-Based Marketing (ABM), and B2B Marketing.